BrewMonitor: The World's First Real-Time, Comprehensive
Fermentation Monitoring Solution
YOU ARE INVITED!
TRY BREWMONITOR®
FREE FOR 30 DAYS*:
GET FERMENTATION DATA,
PAY NOTHING.
The BrewMonitor System is here and we're excited to get it into brewers' hands, so we've made it very easy to get started:

     1) Try BrewMonitor on your existing tank(s).
     2) Track fermentation data for 30 days.
     3) Discuss your results with us.

Track critical measurements, 24-7, from any smartphone, tablet or PC:
Dissolved Oxygen • pH • Gravity • Pressure
Fluid Temperature • Ambient Temperature • Conductivity

Real-Time Data You Need to Solve Problems and Improve Products:
Prevent Fermentation Failures • Ensure Quality & Reproducibility • Reduce Costs

Get started today – it's easy! Complete the form for a quick response.
*Terms and conditions apply. Free shipping and handling for companies in North America.
Data That Matters
• View all active fermentations, from multiple locations in a single dashboard
• Receive automatic alerts about problems, via email and text, using user-selected alert thresholds per fermentation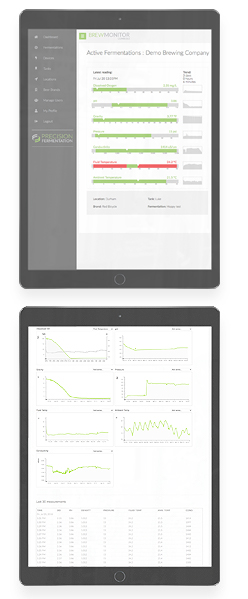 ...At Your Fingertips
• Get a graphical start-to-finish view of your fermentations from continual sampling
• Replace traditional "snapshot" sampling with exponentially more data: 1,000 data points per day
• Perform yeast vitality checks with a few mouse clicks
• Easily benchmark and compare batches for consistency
Try BrewMonitor
for 30 Days – free!
Testimonials
A lot of the nuances of keeping a flagship beer 'on-brand' heavily depend on how consistent you can be. At Bond Brothers, we pay special attention to pH because of how much it influences flavor, but overall, it's about hittng the same numbers at the same times. If you do not have real-time fermentation data, then you're always going to be shooting in the dark.
– Whit Baker, Brewmaster, Bond Brothers Beer Company
Seeing past fermentation results side-by-side with BrewMonitor really helps with dialing in our core brands. Unexpected benefit – I'm actually getting more sleep since I can see that my fermentations are on track instead of the worry keeping me up at night.
- Luke McGuire, Head Brewer, Spiral Brewery
It's exciting how BrewMonitor gives us the ability to really dial in our fermentation trajectory, which informs us about how we can make our beer better the next time around. We're now able to build specific profiles for different brands, and BrewMonitor's ease of use is remarkable! It allows us to produce better, more consistent product, and gives us more confidence about what we're putting out on the shelf.
– Les Stewart, CBO, Trophy Brewing Company
Unparalleled Fermentation Insight.