BrewMonitor Case Study: Terrapin Beer Company
Athens, Georgia-based Terrapin Beer Company is a legendary Southeastern US craft beer organization that focuses on both the creation of great craft beer and its positive impact on the world. With the company's acquisition by Molson Coors' Tenth and Blake division in 2016, and production levels at approximately 100,000 barrels per year, Terrapin's mandate has been elevated higher than the average regional craft beer producer.
Read our case study to learn how this large craft beer institution leverages real-time fermentation monitoring for proactive QA management and efficiency gains across brewery operations.
"BrewMonitor saves us monthly labor costs. But just for the peace of mind… I don't know. What is that worth?" – Abbey Vickers, QA Manager, Terrapin Beer Company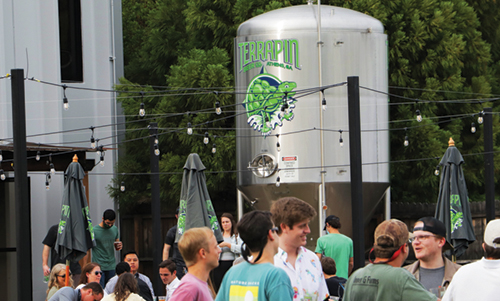 BrewMonitor helps support Terrapin's production and business goals mission with continuous insight into the fermentation process, 24-7:
BrewMonitor saves brewing and QA staff many hours in labor each month.
Comprehensive data reporting provides QA team with the visibility required to be more proactive in solving problems and successfully managing fermentation outcomes.
BrewMonitor helps improve operational workflows, increases productivity, and reduces stress.
Real-time monitoring helps improve management of the cellar, including preventing tank over-pressurization events.
Precision Fermentation's excellent customer support helps ensure team success.
"Gravities are one of the first things that you do, and if that can be taken care of by a machine, that's incredible. You can move on to all the other tasks, like a dry hop or brewing or filtering up. BrewMonitor saves time and energy for us to do things that are not exactly more important, but rather, things that can't be taken care of automatically. It makes the day less stressful." – Olive Overmoyer, QA Technician, Terrapin Beer Company
Download now to read the full story: