Water Chemistry for Brewers: Hype Beer Styles – Juicy/Hazy IPAs and Pastry Stouts

This is the third installment in an article series discussing water chemistry information and best practices for brewers.
Read the first article, "Water Chemistry: What Every Commercial Brewer Needs to Know" here »
Read the second article, "Water Chemistry for Brewers: Creating Classic European Beer Styles" here »
Cigar City Brewing head brewer Wayne Wambles half-jokingly uses one word to characterize the type of stout that's taken a strong hold in the brewery's home state of Florida: "Underattenuated."
Indeed, lactose-laden "pastry stouts," as they're often called, have so proliferated in the Sunshine State that Voodoo Brewing – headquartered in Pennsylvania – has named its version "Florida Stout."
But brewing them in Florida can prove less sweet than the resulting liquid. While a boatload of adjuncts might mask many flaws, the base of a consistent pastry stout depends first on the brewing water chemistry it consists of. For instance, the water Cigar City draws from in Tampa rotates between up to four different sources whose sulfate readings fluctuate between 70ppm and 200ppm.
"Increased sulfate levels are not a good thing for bigger, sweeter, malt forward stouts," says Wambles, who helped make the brewery famous for imperial stouts. "It elevates the hop profile and can throw the malt balance off if the goal is to make something like an imperial stout or more malt-forward stout."
He recommends going no higher than 100ppm for this kind of beer.
While brewers aiming for a clean, assertive hop bite to their beers do favor relatively high levels of sulfate, brewers chasing the hype of a pastry stout or today's most popular new subcategory – the juicy IPA – prefer a higher amount of chloride in their brewing water profile.
"Chloride in your water chemistry tends to accentuate the malt character and also give the mouthfeel a softer, rounder sensory experience," says Sean Lawson, co-founder of Lawson's Finest Liquids in Vermont, revered for its Sunshine line of balanced, juicy IPAs. "If we were talking about music, sulfates might lend a staccato note whereas chloride would have more legato tones."
New England IPA Water Profile
Lawson wryly refers to his mostly clear or translucent Sunshine beers as "IPAs made in New England," as opposed to New England IPAs (NEIPA), a term that serves as a bit of a catch-all for hoppy ales commonly typified by a soft, citrusy or tropical hop flavor; a massive amount of dry hopping; a gentle mouthfeel and a cloudy appearance. The Brewers Association (BA) added them to its official style guidelines in 2018 but calls them "Juicy or Hazy" IPAs while noting that neither juiciness nor haze is required. In fact, the BA makes only two sensory demands: 1) "hop aroma and flavor are present," 2) "the impression of bitterness is soft and well-integrated into overall balance."
As brewmaster at Massachusetts' Trillium Brewing in 2015, Eric Thomas helped pioneer the style and credits its development to a departure from the IPA water profile that informs the more traditional British and West Coast versions.
He emails, "The traditional dogma behind IPA styles (prior to the NEIPA) was rooted in higher sulfate to chloride ratios based on historical water profiles. When the NEIPA came out and everyone began exploring higher chloride to sulfate ratios, at least for me that's when it really drove home the impact on hop expression, softness, mouthfeel and overall textural experience of IPA styles and the water chemistry impact from these two ions alone. It's a really powerful thing to experience."
In subsequently perfecting his technique as head brewer at Sixpoint Brewery in Brooklyn, he settled on a chloride/sulfate ratio of 3-3.5:1 in his mash water. He notes, however, that ratio isn't all that matters. He says chloride can and should be tasted above 50 ppm. Whereas much of the literature on the topic uses 150-200ppm as a general target (the same range Wambles uses for his stouts), he's gone as high as 300ppm.
"I loved how the higher calcium chloride additions and chloride:sulfate ratio could lend a pillowy softness and subtle sweetness to the beer, which could help improve high attenuation scenarios and also accentuate the juicy qualities of the style," he writes.
Veronica Vega, director of product development for Oregon's Deschutes Brewery, aims for around 200ppm of chloride in her hazies.
"For snappier west coast style IPA's we increase the calcium sulfate," she says. (Note: brewers usually use calcium sulfate – gypsum – and calcium chloride salts to adjust their levels.)
West Coast IPA Water Profiles
Known for its signature hop snap, Stone Brewing in San Diego keeps the bitterness in its west coast takes on New England IPAs.
Head brewer Ethan Spiro emails, "When we released our first packaged, nationally released hazy IPA, Stone ///Fear.Movie.Lions Hazy Double IPA, it wasn't nearly as hazy as most, and that was by design. We wanted that hop bitterness to show through, complemented by the juiciness and full mouthfeel of a hazy double IPA. We've since continued to explore this style with a few different variations that definitely elevate hops more than most hazies."
That said, Spiro sticks fairly close to industry norms in his chloride-to-sulfate ratios, sometimes even leaning more heavily than most into the chloride with a range of 2:1 to 4:1 for FML and 2:1 to 1:1 for Stone Hazy IPA.
Caution When Using Chloride
While a high chloride content does lend itself to luscious NEIPAs and pastry stouts, authors of the Water: A Comprehensive Guide for Brewers warn that brewers should not exceed 200ppm of chloride in their stout and IPA water profiles. Above 100ppm, they caution, chloride can corrode stainless steel brewing equipment. Above 300ppm it can adversely impact clarification, body, colloidal stability and yeast health; and above 400ppm it can have negative effects on flavor that some might describe as "minerally."
It's important to note that malt contributes its own chloride content; Water co-author John Palmer tells Precision Fermentation that according to a finding by Ballast Point, 1.040 wort made with distilled water and five base malts contains approximately 200ppm chloride, just from the malt.
Free eBook: Leveraging Data-Driven Fermentation Performance Management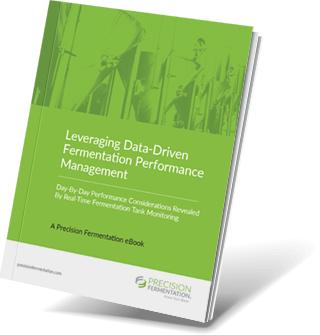 Can fermentation management be improved, as a process? This eBook explores, in detail, how fermentation performance data analysis helps elevate product and business outcomes in a modern brewery, whether brewpub, microbrewery or regional craft brewer.
You will learn:
Day-by-day performance considerations – learned through the extensive examination of real-time fermentation tank data.
Key recommendations from the Precision Fermentation science team at each major step of fermentation – "Day zero" (i.e. before you pitch your yeast), the first 24 hours, and day two through the end of fermentation.
Best practices – Activity to watch out for, broken down by each key measurement – Dissolved oxygen, gravity, pH, pressure, internal/external temperature, and conductivity.
Key findings that can help you solve problems and improve your results.