Precision Fermentation at WBC Connect 2020 (Virtual Event)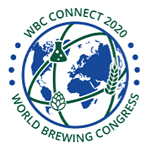 The World Brewing Congress has gone virtual this year, and Precision Fermentation is excited to be a sponsor and virtual exhibitor. Join WBC Connect 2020 for excellent technical brewing sessions (either live or accessible on-demand after the event). WBC Connect 2020 is brought to you by MBAA and ASBC – live virtual sessions are being presented Friday September 18 through Friday October 8th. Visit worldbrewingcongress.org for schedule and registration.
Precision Fermentation is proud to sponsor the WBC Connect 2020 session, Brewery Quality Assurance, Analytical III, moderated by Kelley M. Freeman of Beyers Analytical Brewing Sciences, LLC – Thursday, October 8th, 3-4:30pm Eastern Time. View session details »
And, Precision Fermentation will be participating in virtual exhibits. Please stop by to chat with our team and learn about the BrewMonitor System during our live meeting time, Thursday October 8th, 12-12:30 Eastern Time. All visitors will be entered for a chance to win a set of Bose SoundSport Free wireless headphones!