See BrewMonitor at Craft Brewers Conference & BrewExpo America 2019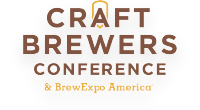 The 2019 Craft Brewers Conference (CBC) – Denver, April 8 – 11 – is just over a month away! And, our team will be there, exhibiting and demonstrating the BrewMonitor System.
BrewExpo America is the largest craft brewing trade show in the US and we are very excited to participate. If you're planning to attend, add us to your Expo Plan and be sure to visit Precision Fermentation at Booth #9024. Why?
See a live BrewMonitor demonstration.
Take home free giveaways.
Enter for a chance to win an iPad!
Or, just stop by to say hello to the team! We're very friendly and love talking with craft brewers.
Please contact info@precisionfermentation.com if you'd like to schedule a meeting. We're looking forward to seeing you there!
---
Learn more about BrewMonitor »
---
About the Craft Brewers Conference & BrewExpo America
The Craft Brewers Conference® is the number one environment in North America for concentrated, affordable brewing education and idea sharing to improve brewery quality and performance. Twelve distinct educational tracks provide attendees with over 80 seminars led by the top minds in the beer world.
BrewExpo America is the premier trade show for craft brewers. With more than 700 vendors all in one location, this is the place to shop for products and services for your brewery or brewpub. This is the perfect opportunity to meet leaders in the national and international brewing arena.
About Precision Fermentation
Precision Fermentation offers a groundbreaking, real-time monitoring solution that dramatically enhances control over the fermentation process for producing brewed beverages and other fermented products. Its flagship product, the BrewMonitor System, continuously live-streams data from an active beer fermentation, offering complete fermentation process visibility and control that entirely replaces trial-and-error measurements, enabling excellent product and business outcomes. Visit us at www.precisionfermentation.com or on-site in Denver at Booth #9024.